The Centre for Student Community and Leadership Development (SCLD) is in place to assist students with their transition into university life and to ensure their continued growth and engagement throughout their time at the university. SCLD provides the tools and guidance to do this through our extensive offering of programs and workshops. From transition programming, nutrition, sexual health and healthy living to leadership skills, community building, involvement and residence life, SCLD is committed to fostering an environment in which students are empowered to be successful.
---
Vision
Partners in student success
---
Mission
We advance the Division of Students mission through our commitment to student development, learning and success. We support and empower students as they transition to and through their university experience. We build leadership, a sense of community and York pride.
---
Values
■ Respect
■ Excellence
■ Innovation
■ Collaboration
■ Accountability
■ Care
■ Inclusion
---
Leadership
The Centre for Student Community and Leadership Development is committed to student life at York University. This requires a director with a passion for student leadership, engagement and success.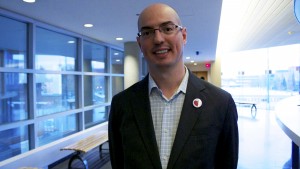 Ross McMillan
Director, Student Engagement & First Year Experience